CARP-E Annual Reports
Automatic extraction of annual report data: faster and more accurate approval of bank loans.
Financial markets process millions of annual reports daily. They extract necessary information which feeds the process of a company loan and mortgage. The extractions are a result of manual labor which implies a lack of accuracy and unnecessary mistakes. TM7 has developed a solution CARP-E Annual Reports for automatic element extraction from large amounts of unstructured data (text) from annual reports.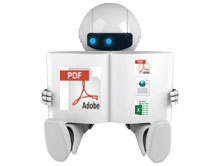 CARPE-E for Annual Reports is a full operation NLP solution developed in close cooperation with financial institutions to exclude the manual labor of data extraction from large amounts of unstructured data. It is a solution which is in production at one of the Dutch largest banks.
We obtained experience in the financial industry which results in a rapid deployment as market best-practices and business rules are already available out of the box. Initial learning is already applied hence the only customer specific trade processing needs to be learned.
Obtaining the correct data from annual reports varies between organisations and departments. CARP-E is very flexible and can be adapted to individual circumstances and scenarios.